Managed to get to the hamfest for a little bit today, but because of a pinched sciatic nerve, I was only able to stay for less than an hour before giving in to the pain.
There was a decent crowd when I got there around 8ish. A few empty tables, but the ones that were there had lots to offer. Didn't get to make it out back to see if there were any tailgaters though.
I did manage to find a couple of books to add to the library. If I was able to stay longer, I probably would have left with a lot more stuff.
One person at the hamfest had a bunch of books he was selling including this ARRL Antenna Modeling Course book.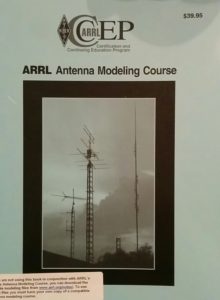 He also had an old copy of Single Sideband for the Radio Amateur that I picked up.
The SSB book was one I heard mentioned on an episode of the Soldersmoke podcast. It seemed like a good one to look for to add to the bookshelf. Nice coincidence to find one at the hamfest.
Disappointed that I couldn't stay longer, but glad I made it even if it was just for a little bit.